This is the second blog in a three part series from a long weekend of Landscape photography in southern Bavaria. I recently moved to Munich and my first visitor was David, who visited for a weekend of landscape photography. This provided an excellent opportunity to explore as the entire area was still very new to me.
We had booked to stay away in Berchtesgaden overnight and fortunately this coincided with the best weather of our weekend. Due to this we wanted to make the most of this opportunity and after a lot of research we decided to drive down from Munich in the middle of the night for a sunrise, spent the day exploring, shot a slightly disappointing sunset before getting up at the crack of dawn and walking up a hill for a stunning sunrise. We then drove across the Bavarian alps to get back to Munich, but this is included in the exploring blog post.
Hintersee
You don't need to do much searching to find Hintersee as one of the classic photography locations in Berchtesgaden, so it was no surprise on a Sunday morning to find that we were not the only people there! As we drive down directly from Munich it was an ideal location as the photography location is very close to the carpark.
Thankfully we got there early enough that there was only one person there before us, so had a good choice of location.
The weather unfortunately wasn't playing ball, so the light was nothing to write home about. Thankfully there was zero wind so the reflections were outstanding, when the local wildlife was insisting on swimming across them!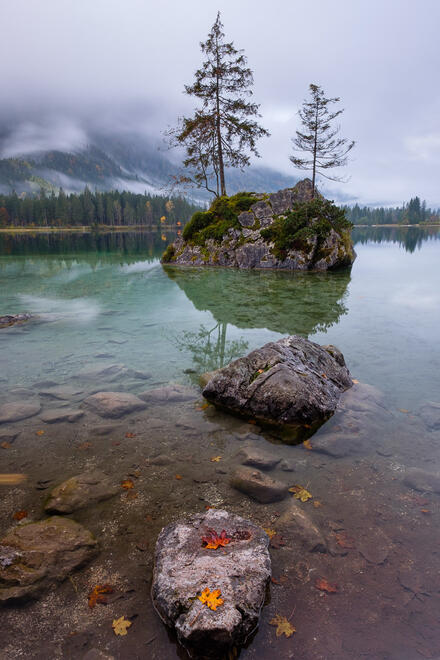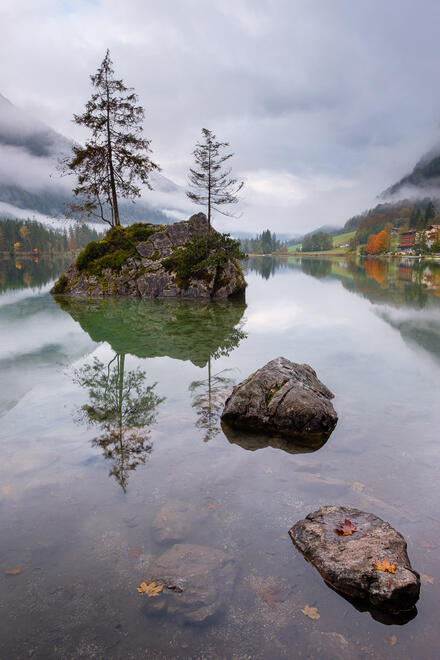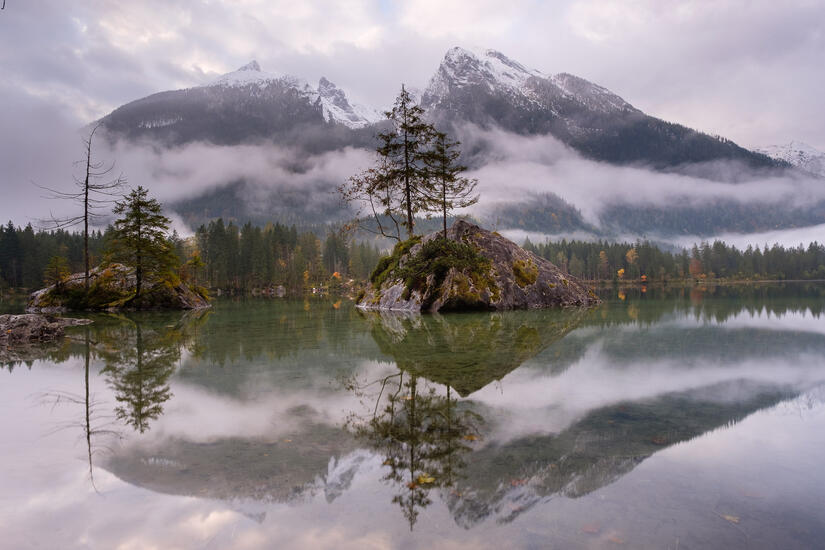 Jennerbahn
As David hadn't been on a gondola before, and we thought we might get a view we decided to get the lift up to Jenner. I found photography fairly difficult up there with the strange light provided by mid and low level clouds. However with better conditions I think there could be some excellent compositions.
After re-warming up in the cafe at the top we got the lift down to the half way station and explored a lake we saw on the way up which would have provided some good opportunities at sunset.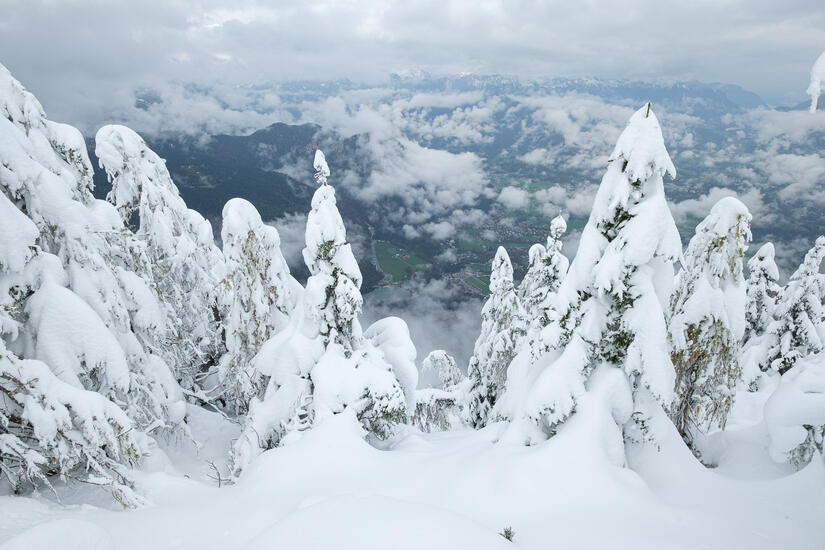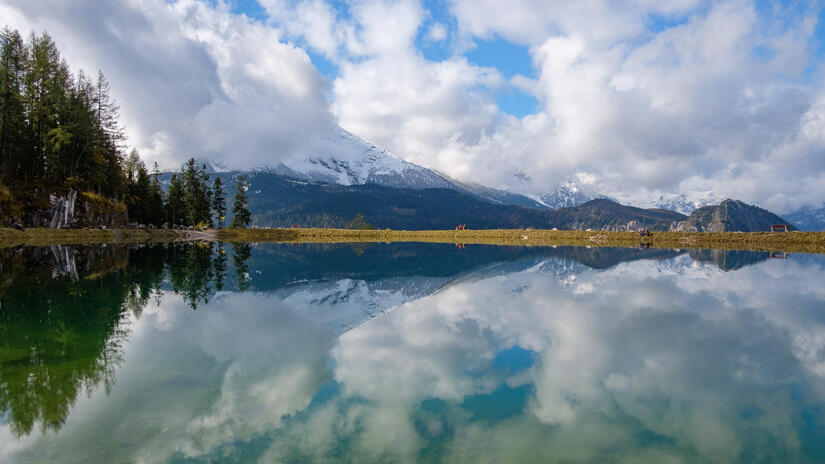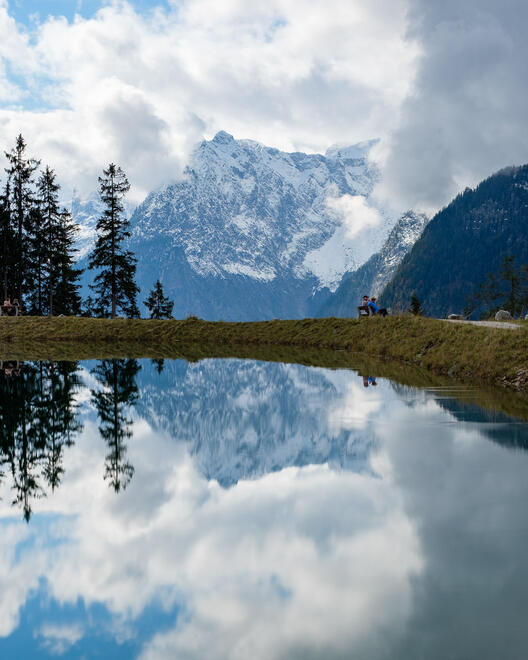 Königssee
With a few hours until sunset we decided to go for a short walk at the Berchtesgaden end of the massive Königssee. It really is an impressive lake surrounded by some big mountains. Next time I will definitely make time to get the boat to the other end of the lake, however we just didn't have enough time on this trip.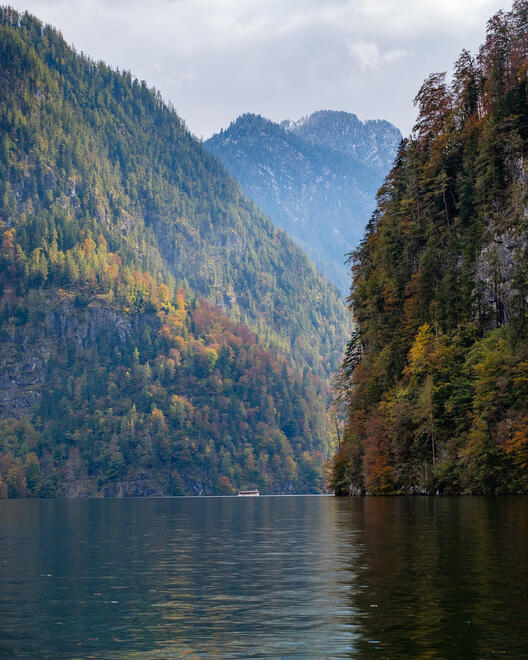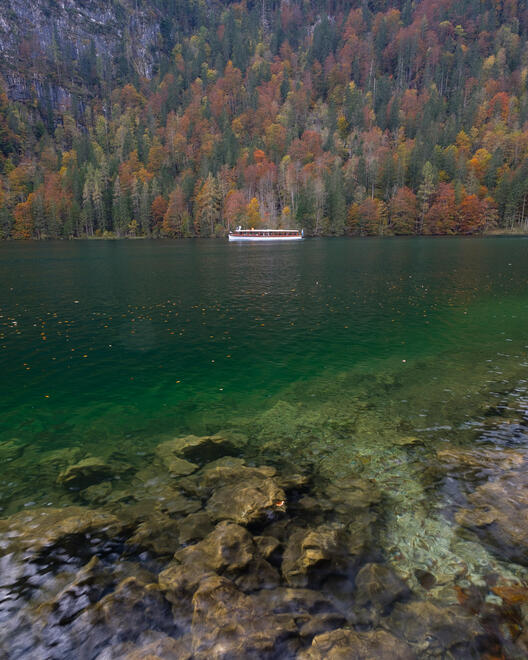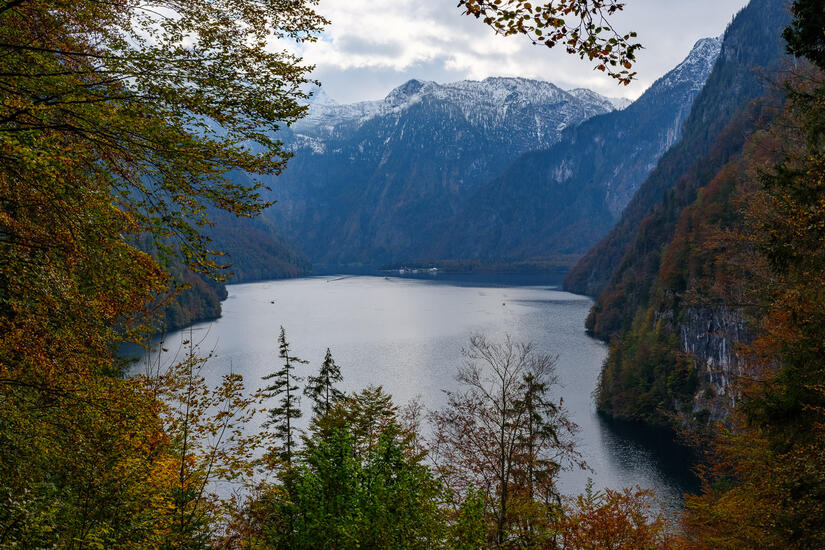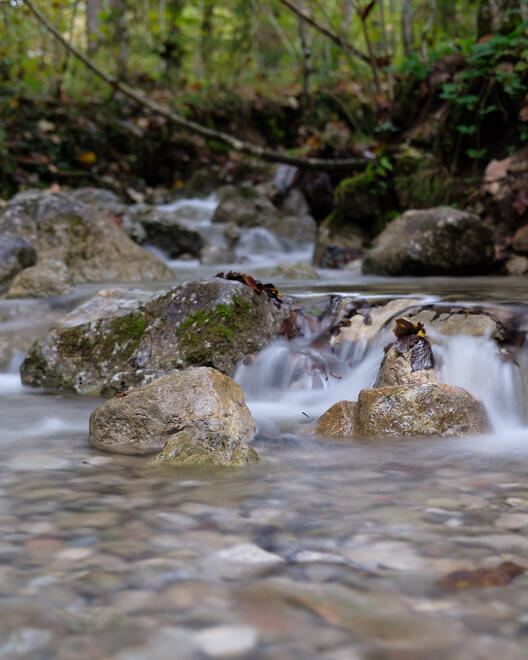 Total distance:
3.42 km
Max elevation:
739 m
Min elevation:
607 m
Total climbing:
200 m
Total descent:
-201 m
Download file:
Königssee Walk.gpx
Maria Gern
After scouting a car park for the next morning we headed for our sunset destination, another classic location of the Maria Gern chapel. Again the light wasn't particularly special, but it is a stunning location, and one I will certainly return to on an evening with better light.
On route to the location we spotted a composition with some autumnal trees with the summit of Jenner behind, which we couldn't help but stop at.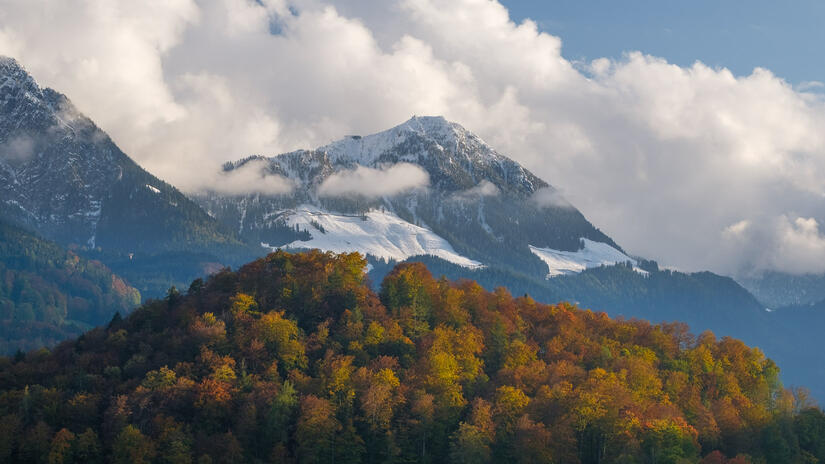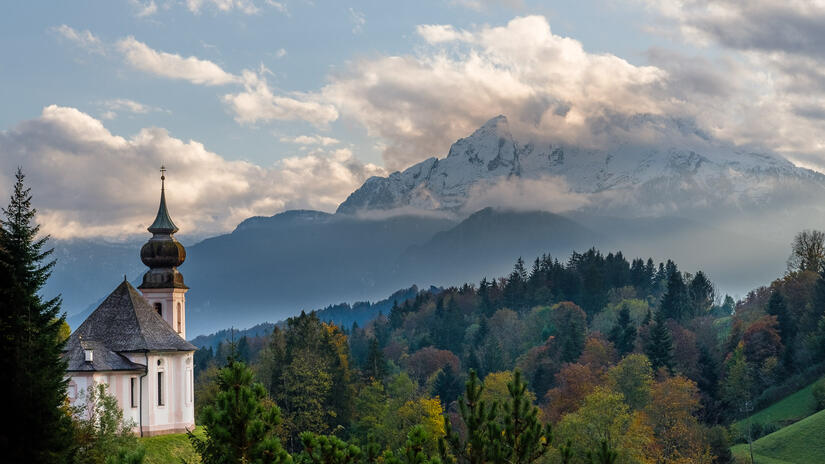 Watzmann from Grünstein
The last morning in Berchtesgaden was really the highlight, and a location which I only found due to the local knowledge of Louse and Adam who live in Munich. It was a very straightforward, if fairly steep walk up to the summit of Grünstein. We decided to stay on the large track which was a bit longer but was good underfoot rather than the much more direct walking path.
We had not planned to get there before the blue hour started, however we left some contingency time for delays getting out the hostel and for slower than expected walking. This resulted in us getting to the location about an hour before the blue hour started, which would have been fine had it not been well below zero degrees!
Getting there early did enable us to get to know the area, and we really enjoyed watching the light appear in the sky as night became dusk. We were not expecting a spectacular sunrise due to the crystal clear sky, but as sunrise approached some clouds built over the Watzmann.
It really was a very special location, as we had different, but equally stunning views in every direction. After the sun was fully up we started our descent, unfortunately the refuge didn't appear to be open for some much needed coffee, so we descended in search of coffee in the valley.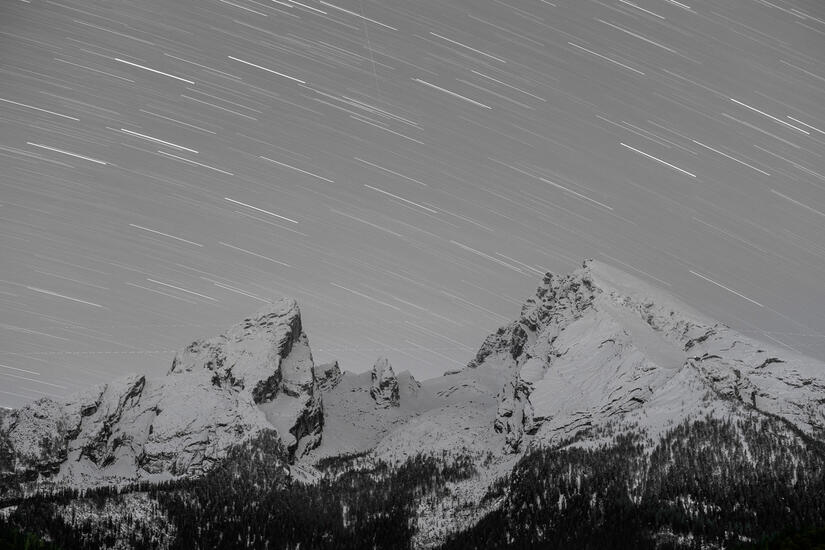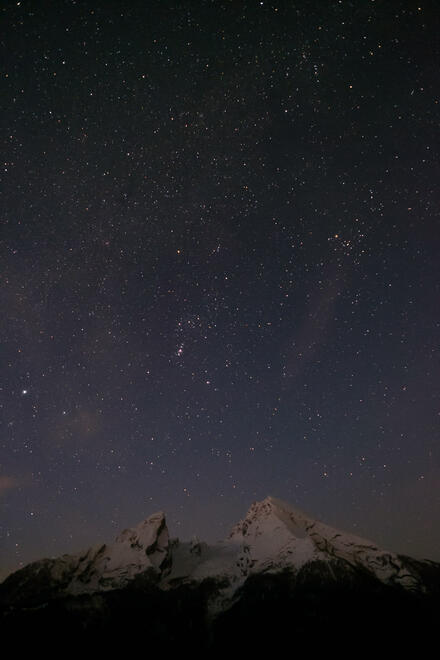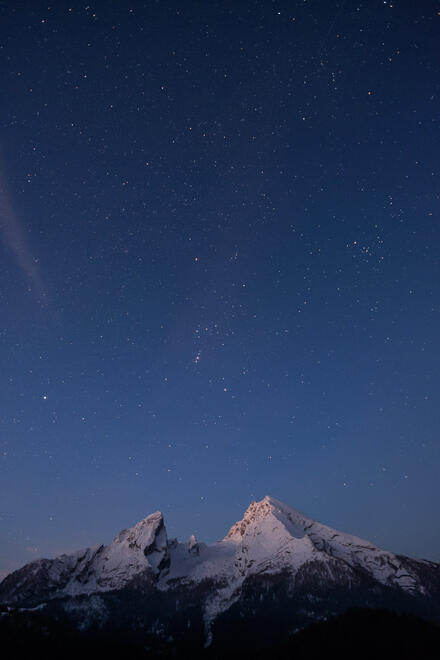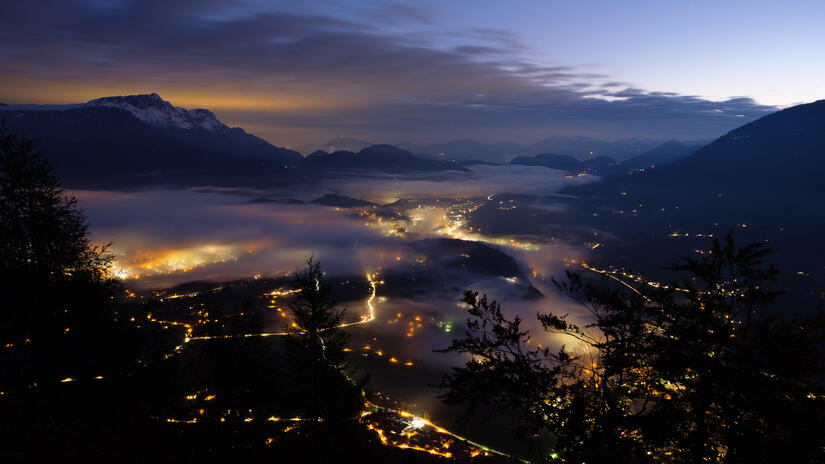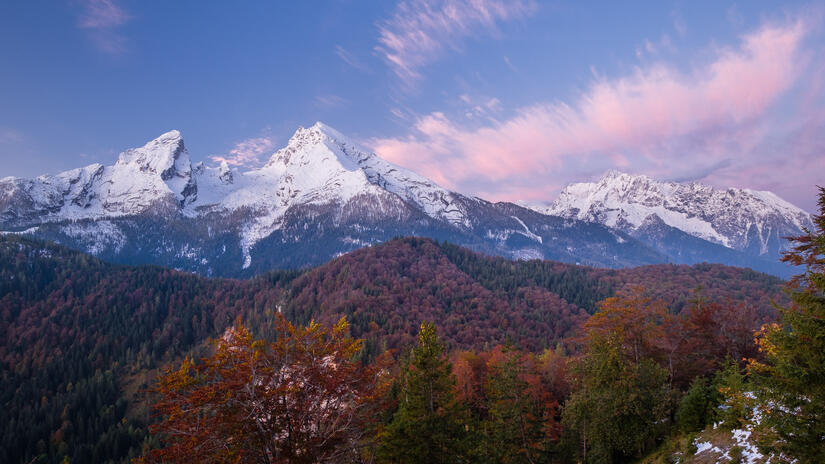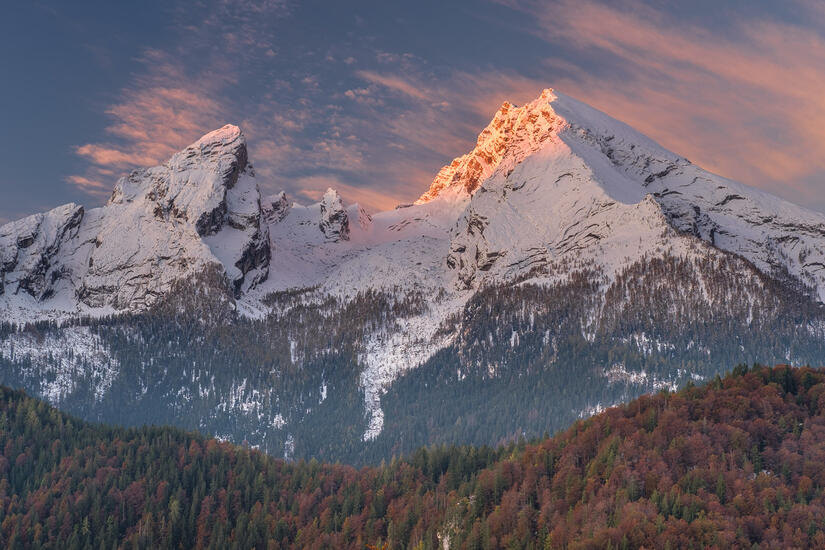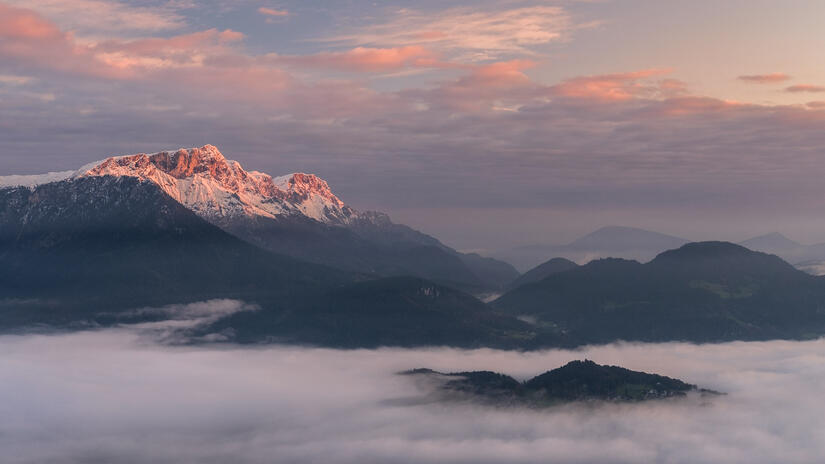 Total distance:
2.82 km
Max elevation:
1275 m
Min elevation:
775 m
Total climbing:
516 m
Total descent:
-17 m
Download file:
Grünstein.gpx