This cold spell that is currently all over the UK has advantages for those of us that are mad enough to go winter climbing and after some snow and a cold spell there is some great winter climbing up the north face of Pen y Fan in the Brecon Beacons.
Thursday saw me take a day off university and head over to the brecons with my mum for a day out in perfect weather with sun all day and cold temperatures. Due to it not having risen above freezing all week the snow was still powdery but that didn't matter due to it being so cold the turf had frozen up nicely which is the important thing on Pen y Fan.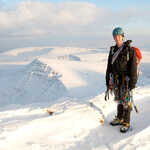 It was a bit of an odd way of starting a climb as to get to the base we had to walk up to the summit of Pen y Fan to descend down the other side just to climb back up the north face. Though this did mean we got fantastic views on the way up with the early morning sun. When we got to the base of the north face we had two routes to chose from, a rib and a gully, in the end we chose the gully so I could gain some gully experience. We started the climb moving together with some runners in between us as the ground was not to steep, but after not too long it started to get steeper and more technical so we started climbing in pitches. There was some fantastic climbing after we started pitching the route including some great mixed climbing over rocky steps and even some ice forming allowing me to place a decent ice screw! When we got to the top it was nearly sunset and the wind vanished which was fantastic as it meant we could sit and eat some food on the summit as the sun was setting. This also meant that I got a rare photo of my on a mountain in all my winter gear.
Until we headed up Pen y Fan I had never actually done an ice climb above Scottish grade II, and I went from that to leading a whole grade II route myself! Though that was not the only first of the day, as it was also the first belay I have ever set up, the first multi pitch climb I have lead, the first time I have placed protection outdoors and the first time I have used two axes in an uncontrolled environment!
I had a fantastic day and am really looking forward to heading up with uni friends in the next cold spell, or if that doesn't turn up Scotland in April where I will hopefully get to do a few more grade II gullies.