We had a couple of mornings climbing at Cinque Torrie as we had forecasts with a nice morning, followed by a stormy afternoon. Climbing at Cinque Torrie meant that we could easily approach with a chairlift, followed by a short walk in.
Day 1
On the first morning we climbed the classic Via Normale on Quarta Bassa, which was fully bolted. It is a very classic route, but as we got the first chairlift we were the first on the route. We ran some pitches together to climb the route in two excellent pitches. After a quick photo on the top we had an atmospheric abseil down into a cave between Quarta Bassa and Quarta Alta. We were very glad for the early start as by the time we had got back to our bags, the initial pitches of the route were chaos as there were about 3 separate teams climbing the route at the same time.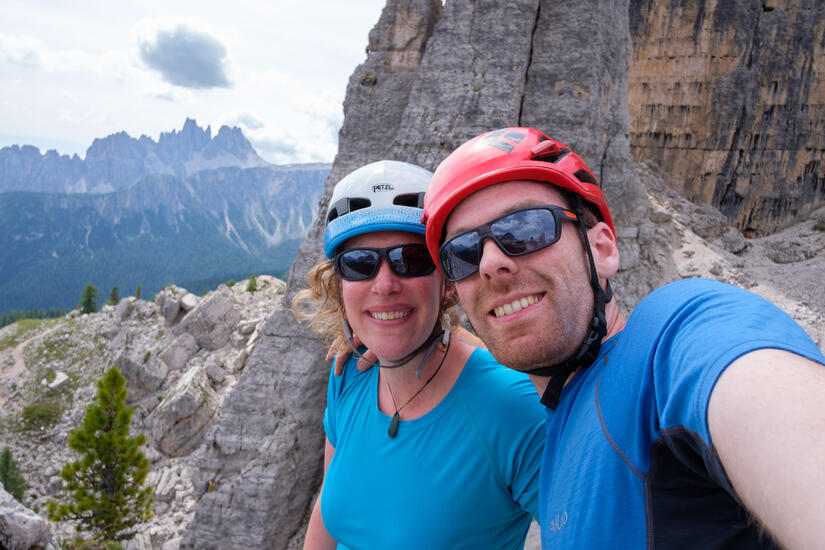 As the bad weather had not yet arrived, we then made the most of our 60m ropes by climbing a two pitch sport route, Bassa Thirteen, as a single pitch. The route climbed a logical line up an arete and was very enjoyable.
Day 2
On our first day we eyed up another classic multi pitch route, Via Lusy Pompanin. However by the time we had decided that we wanted to climb it, we didn't have time due to the weather. A few days later we returned to climb the inspiring line up an arete, to a small summit.
This time we were less lucky with our attempts to get to the route first from the lift, and had to queue behind two other parties. Thankfully once we started climbing this didn't prove to be an issue at all, and we stayed well ahead of the party behind us.
The climb was enjoyable with good rock, some exposure and decent gear, however the rest of the crag was very busy which somewhat ruined the atmosphere of a multi pitch climb in the mountains.
The free hanging abseil down from the summit was a fairly exciting end to the route. By the time we got back down to the base we decided that we didn't have enough time for our other objective before the rain came, so we enjoyed a weissbier in the rifuigo.