With another perfect autumnal day we headed down to the Allgäu to make the most of being able to go into Austria, and to enjoy some more hike&fly fun. While we could have just walked up the Neunerköpfle, we decided to take our heavy bags there the long way by walking from Tannheim up towards the Visalpsee, steeply up to the Sulzspitze and then along the ridge to the Neunerköpfle.
The morning was clear and cold, which we certainly felt while walking along the valley towards the Visalpsee. After some unnecessary ascent due to following a sign rather than my planned route we were soon at the start of the ascent. Due to some rockfall we followed the new temporary path through the woods at the bottom, before joining the rather steep track up. The ascent felt fairly tough with the bags, and resulted in being both hot and cold at the same time, thankfully we were eventually treated to a view of the wonderful Gaishorn, before returning back into the woods.
After a while we emerged from the woods, and then into the sun and from here the day just kept getting better. The views with the clear air were fantastic, and the going was not too difficult despite the sun. Just after we arrived at the Gappenfeldscharte we enjoyed our lunch before heading up the Sulzspitze, which was surprisingly snow free, until it wasn't! The last bit was fairly hard going, and definitely resulted in wet feet! However the view was spectacular in most directions, and certainly worth the up and back ascent.
We descended back down to the path and headed along to the Sulzspitze, which didn't take as long as I thought it might have. There was some snow/ice to contend with on the descent, but we soon traversed back into the warm sun and arrived at the Neunerköpfle.
The take off had a perfect wind for a beginner forward launch, enough to make the take off easy, but not enough to blow the glider around. There was however a new difficulty, snow! Apparently gliders like to slide back down smooth snow slopes, after some gentle persuasion they did appear to stay still long enough to take off! The air after the take off was strange, it seemed very buoyant, but not really thermic which gave us a nice long glide back down as we flew around above Tannheim admiring the view. James kindly waited around for us to take off so that we could have some photos, before running down.
The landing was interesting as despite the almost zero wind at the landing site, there was a huge wind gradient with about 20km/h wind at 50m. Given the lack of wind at the take off, and the lack of wind at the landing this was a bit of a shock, but certainly not a problem.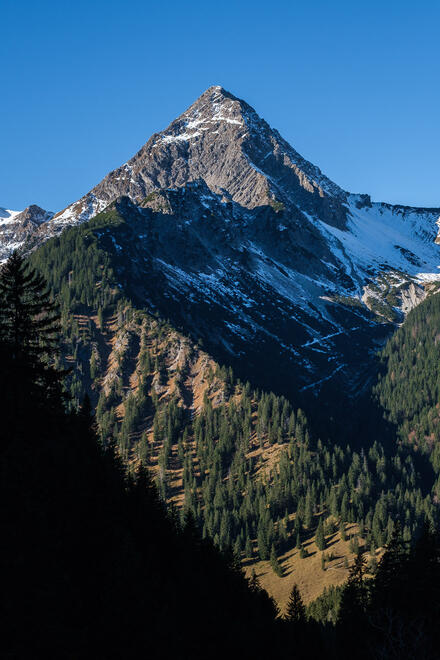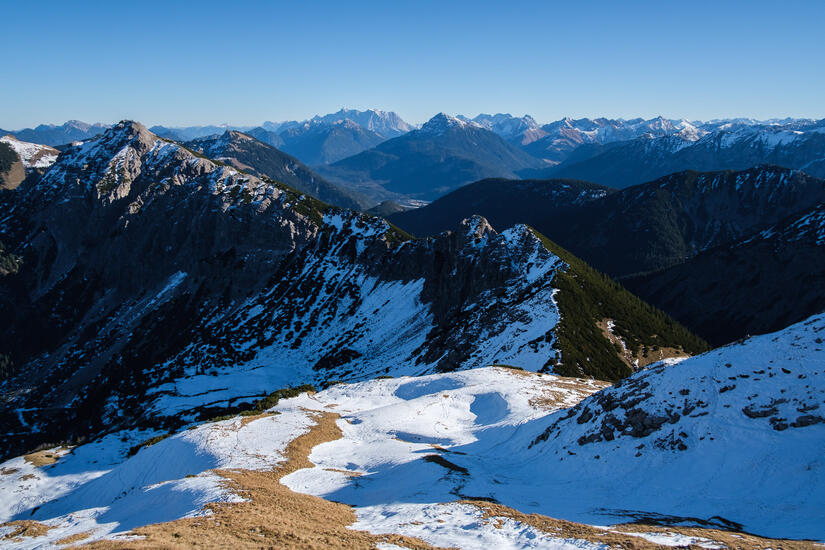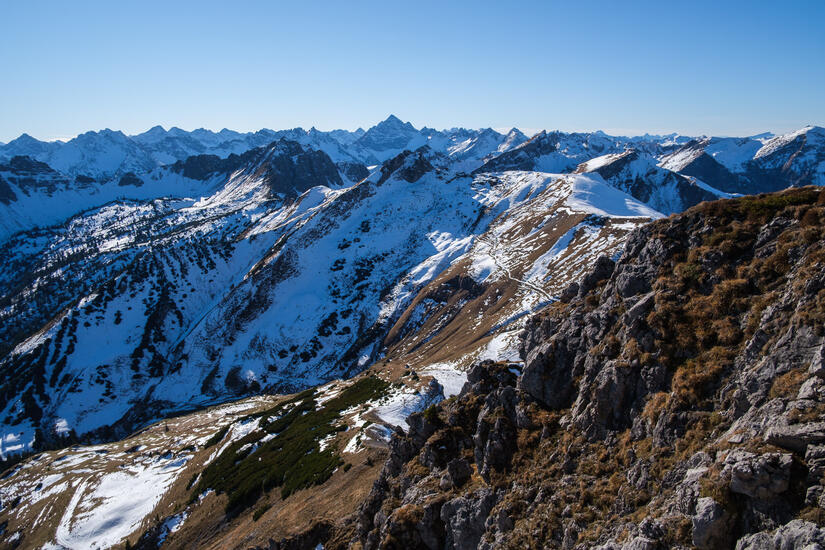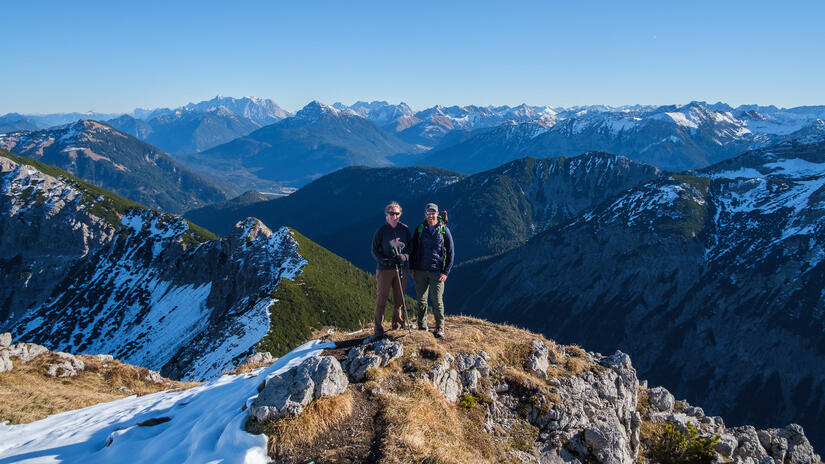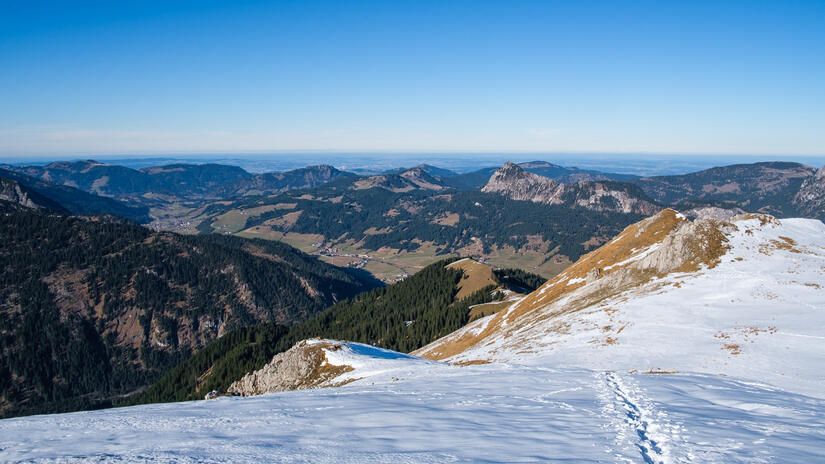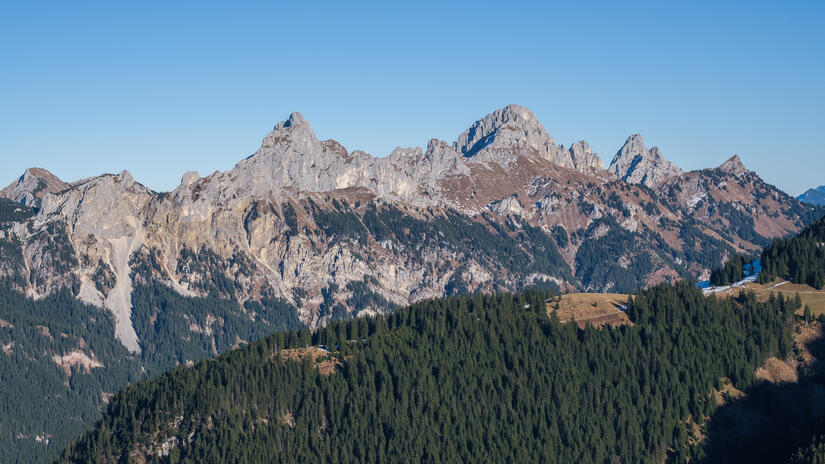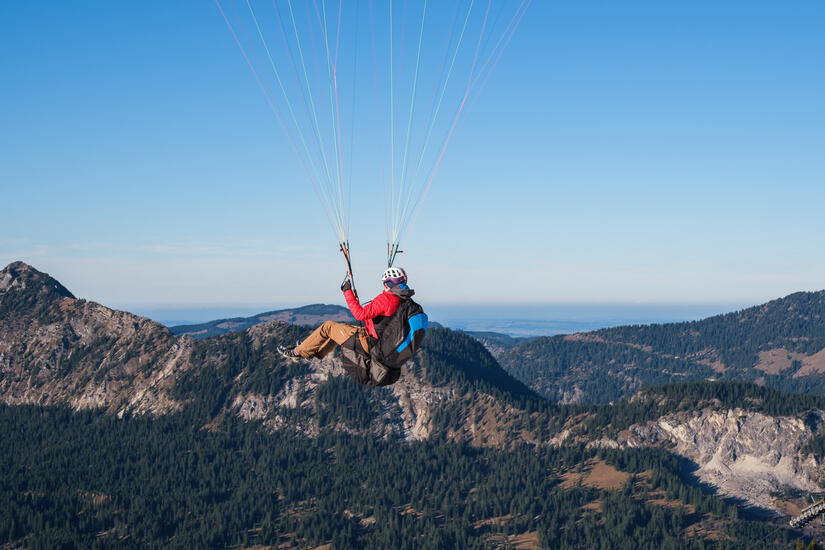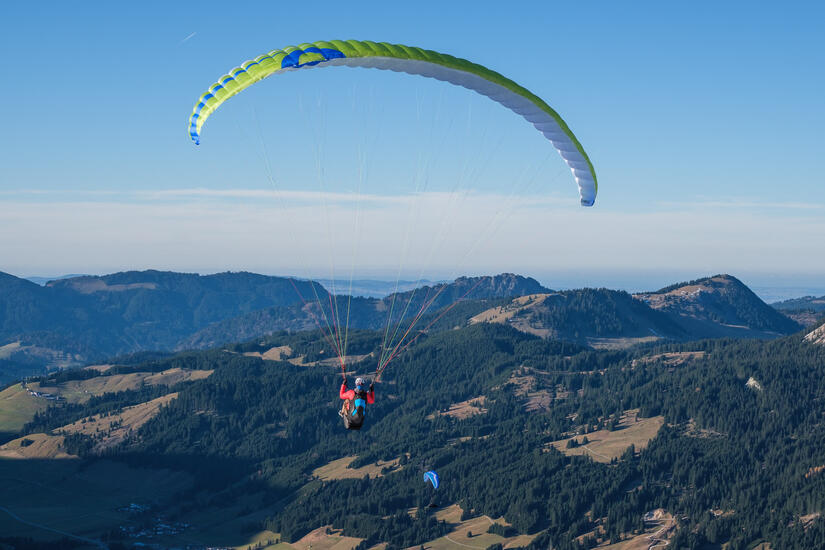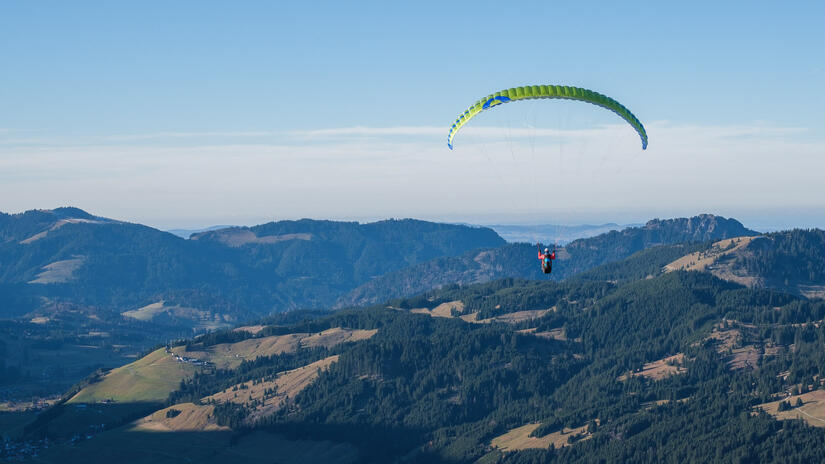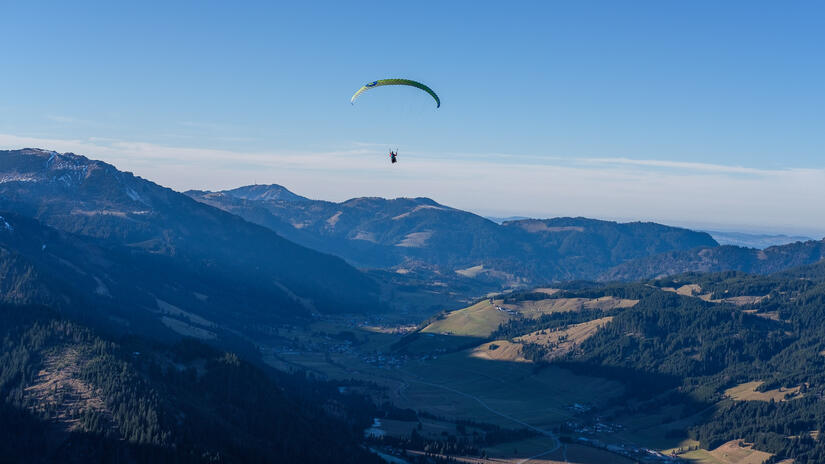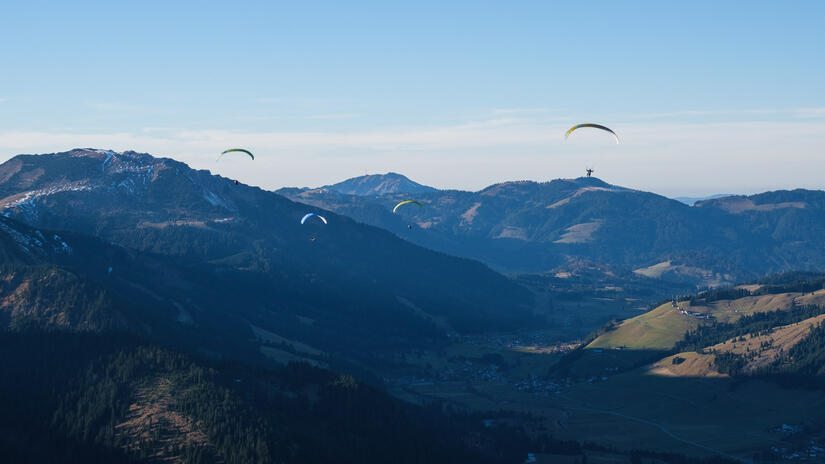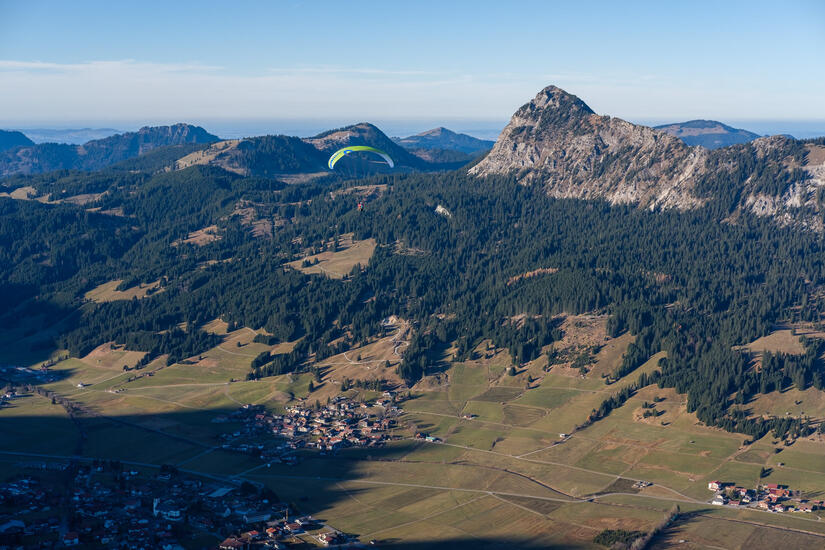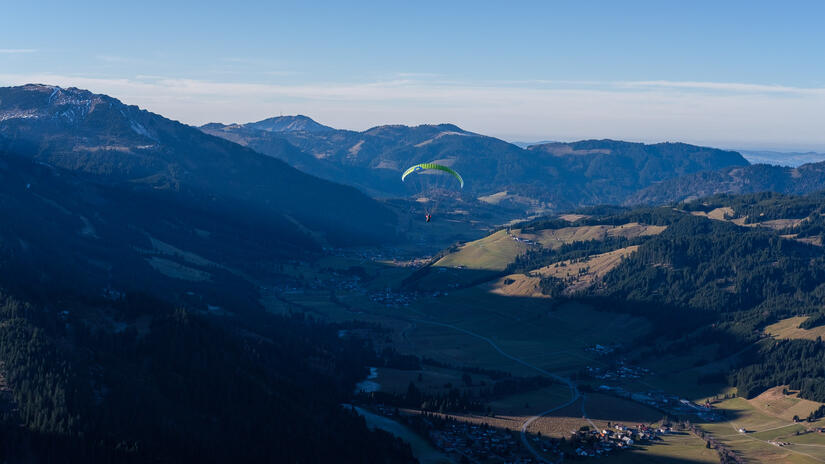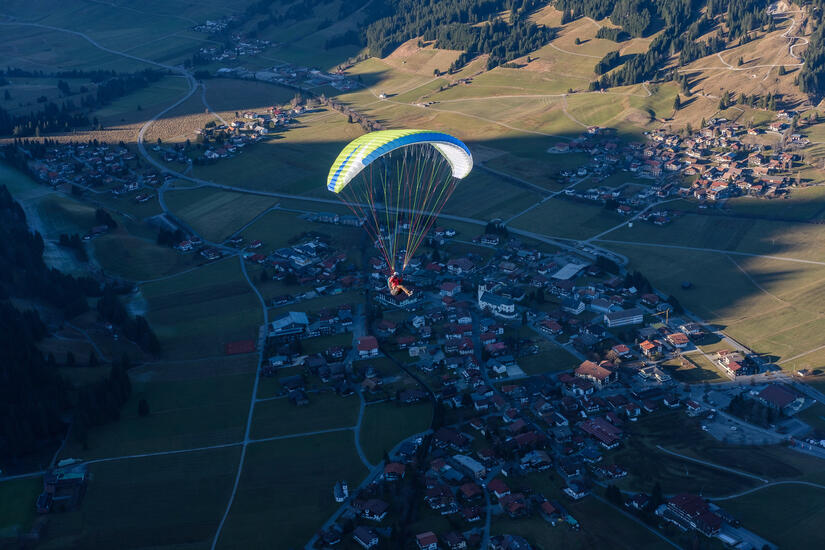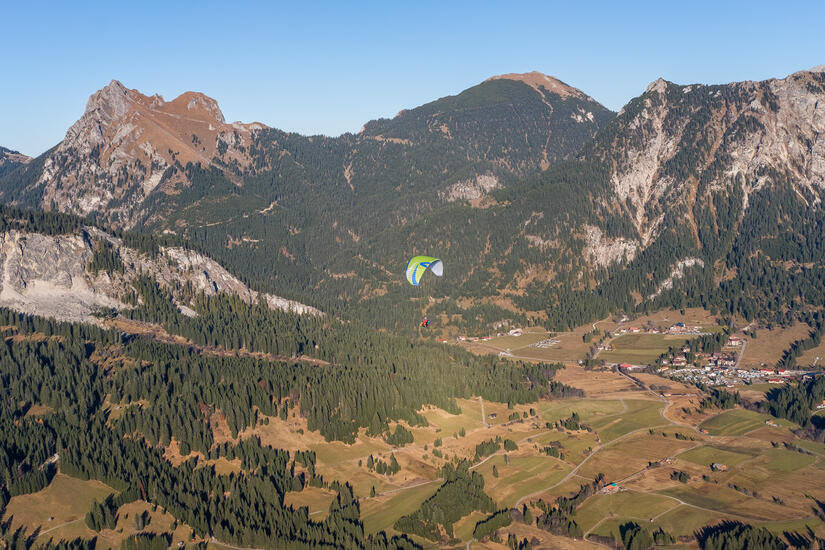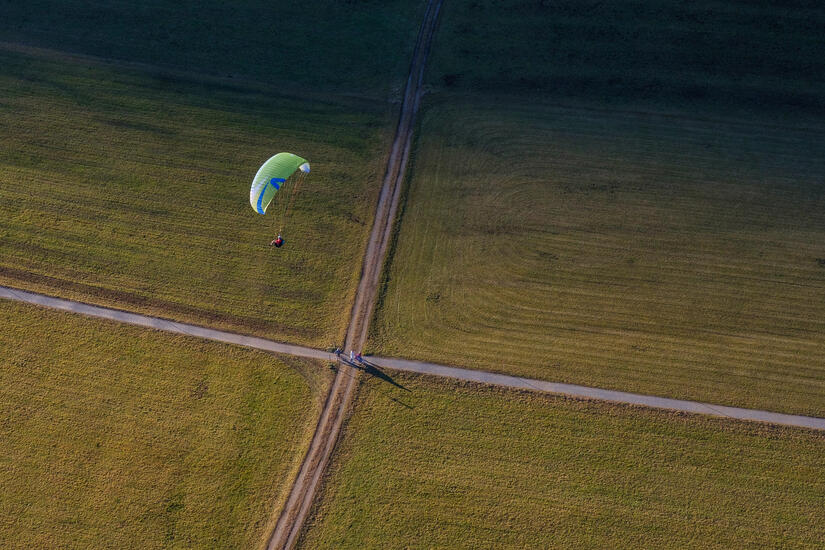 Total distance:
19.11 km
Max elevation:
2080 m
Min elevation:
1003 m
Total climbing:
1158 m
Total descent:
-1252 m
Download file:
Sulzpitze_Neunerk_pfle_Hike_Fly_reduced.gpx